We are extremely sad to report that our friend and colleague Prof. Samir Ghabbour passed away in Cairo. He was Professor Emeritus of Animal Ecology at Cairo University.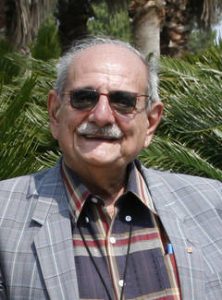 During his long career he was Laureate of Egypt State Encouragement Prize for Biology (twice); Egypt Sciences and Arts Medal of Egypt; Kuwait Prize for Environment; PrixCharles Sauvage, Société Française d'Ecologie; Appreciation Prize from Cairo University. He acted as Membre Correspondant of the Muséum National d'Histoire Naturelle (MNHN), and Member of Egypt National Specialized Councils. He was Visiting Professor to Lund Univ. (Sweden) 1978, UQAM (Canada) 1991, MNHN (France) 1992-1993, University of Grenoble (France) 1995, Rome (La Sapienza) 1995, Université Senghor d'Alexandrie, and American University in Cairo. He acted as Chairman for the Egyptian National Committee for the UNESCO Programme on Man and the Biosphere (MAB) and as a consultant to International Organizations: Blue Plan of the Mediterranean, Agence de la Francophonie, UNESCO, UNEP, UNDP, SCOPE, IUCN, ALECSO, World Futures Studies Federation, and others. He was the founder of UNESCO Sponsored Online Master Program in theManagement of World Heritage at Cairo University.
Have a safe trip, OD.
LS